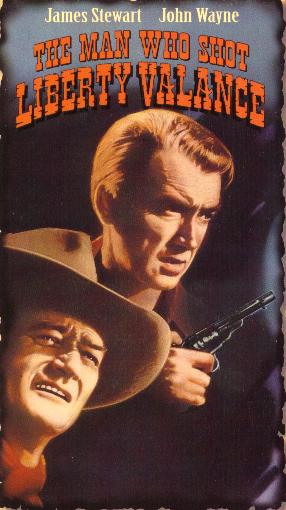 Jimmy Stewart is a bungling but charming big city lawyer who comes to the small town of Shinbone and he's determined to rid the town of it's number one villian, Liberty Valance (Lee Marvin). John Wayne is The Man Who Shot Liberty Valance. Wayne and Stewart also have their eyes on the same girl. In the end, one gets the villian and the other gets the girl. Directed by John Ford, "The Man Who Shot Liberty Valance" is one of the greatest westerns ever.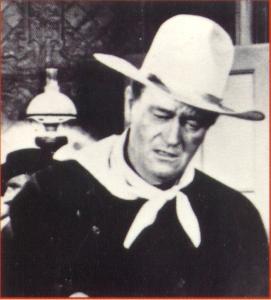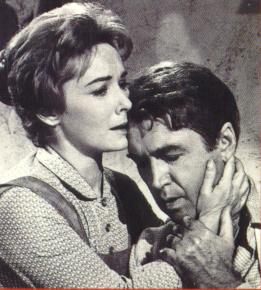 Audio
lvcons.wav (J.W.) "What Is It Now Pilgrim, Your Conscience?" (60 k)
lvcool.wav "Well, Cool off Pilgrim" (45 k)
lvcuss.wav "You're A Persistent Cuss Pilgrim" (45 k)
lveasy.wav "Whoa, Take her Easy There Pilgrim" (49 k)
lvgood.wav "Well Good Luck Pilgrim" (47 k)
lvmake.wav "Think Ya Can Make It Pilgrim?" (39 k)
lvstit.wav "Hey...Pilgrim, You're Gonna Need A Couple Of Stitches" (53 k)
lvtrick.wav "I Hate Tricks Pilgrim" (51 k)
lvtalk.wav (Jimmy Stewart) "Best Way To Make A Man Talk Is Make Him Comfortable" (42 k)
lvpretty.wav (J.W) "Ya know you're mighty pretty when you get mad" (62 k)
lvmeat.wav "Burn me a good thick one...meat and potatoes" (55 k)
lvlegal.wav "Now wait a minute, that ain't exactly legal is it Mr. Attorney?" (73 k)
lvkill.wav (Jimmy Stewart) "Everybody in this country kill crazy?!"
lvbluff.wav "I think you're bluffin' "